a while ago i hosted a teshcast by italian duo life's track. i came to them through a most excellent release on italian label bosconi. when the boss of said label, fabio della torre, emailed me recently with his imprint's next release – from cross pollinated house and bass producer altered natives – and informed me he was himself beging to focus on production under his own name once again (having previously released as fabio corcos and one half of minimono) i was keen to hear the results and, long story short, they were impressive, so i hooked him in for a teshcast.
turns out he has a great story to tell, and has been focussing on other people's careers for far too long… as well as djing, producing and running a label, fabio also curates his own festival in italy. read on for the lowdown, then check out his sensationally deep and classy mix featuring tracks from gerry read, fudge fingas, patrice scott, scott grooves – basically all my favourite artists.
how and when did you first get into electronic music in italy? what scene were you involved with? what music were you hearing?
i started getting in touch with electronic music at quite early age. when i was a kid my father used to listen to a lot of jazz rock fusion & proggy stuff from the genesis to alan parson's, my older brother was more into joy division or soft cell kind of things… i was myself a heavy metal drummer!
at school one day when 17 a friend of mine made me listen to a pirat radio here in tuscany playing all kind of techno progressive acid stuffi heared for the first time some very old platipus records, more trancey kind of thing, and also some old soma records like the "desert storm" one. i was really fascinated by that sound so new to me that i stopped playing the drums and i bought record players. the scene at the times was kind of weird, there were super big clubs.. i wasn't aiming to play there, that was just my first clubbing experience as a young guy. i was going to a couple record shops in florence looking for stuff i could play. at the times i was organizing and playing my own small parties in an abandoned house here in the countryside (bosconi) , the voice spread out, more than 200 kids were always coming to have fun!
when did you decide to start producing and djing? how long did it take until you were doing it full time?
i started djing before everything! it was '95 as i said i already had some followers and i stated playing tenax on sunday afternoon for young crowds, then in '97 i had my little own night on the tenax prive where i was proposing some jeff mills and robert hood suff or early green velvet to a colourful university crowd.
i went to study in berlin in 2000, oh yes i was a student myself ! i was pretty lucky to be there, in berlin it was really the right time! bpitch and pokerflat were flourishing, electro sound at it's best… i found there the sounds and the inspiration i had been always looking for! i came back to firenze in 2001 and started a night called berlin electro in historical underground club called exmud… ellen allien, luomo and others came to play shortly after.
i always organized my own parties nobody was doing it for me, or was believing too much in what i was doing, except my friend ennio my future partner of minimono. i met him in exmud and in 2004 together with piero (now half of "we love") we founded werk, another clubnight where our scene saw for the first time in town mr jay haze, mathew johnson, luciano, and majesty daniel bell.
alongside with that i started producing minimono in 2005 with first releases on telegraph, tenax, ethique, olso, tuningspork..
and why and when did you start bosconi – what was its vision?
i founded bosconi in 2008, even though the idea of founding my own label was already mature some time before that, i guess it just took a while to realize it. bosconi is the name of the area were i live, upon a hill in the countryside above florence, full of olive trees… that is why the name of the sublabel, bosconi extra virgin..
after some experience as producer myself, i thought we really needed something coming from here to express our vision of music and give some space to our productions and those from local emerging artists. getting in touch as a producer with such label managers as alex petit boss of logistic and telegraph records, or people like jay haze – an eclectic artist and visionary of the music business at the same time, were undoubtedly very important experiences for me to understand their idea and their vision. in this sense, what i realized that over time the ultimate goal is the music… not only regarding the quality of the production but mostly about the idea behind it! far from the canned format of labels that have branded a formula of a sound the basic idea of bosconi records is to go ahead with anything we like weather it's hip hop, idm, techno, house music or bass!
the sublabel bosconi extra virgin was launched in fact with the purpose of experimenting a bigger variety of sounds, weather bosconi remains more dancefloor oriented, still with an eye to avant-garde and futuristic sounds..
the label seems quite eclectic – for example you have another altered natives release coming up soon – how did that first come about?
altered natives releases insert perfectly into this context. it's futuristic music with an ethnic techno flavour and it has a big impact on the dancefloor still being melodic and bringin' you in very original moments. my friend & dj rufus first introduced me in danny's (altered natives) productions. he let me listen to some of his first releases on fresh minute, i was really impressed especially by the "rass out" track. danny's music has the quality of being fresh and original, it's stays in between the styles and it's not really categorizable… i can just say it fits perfectly with the idea of bosconi.
how much influence do you take from the countryside you are in? and musically what inspires and influences you? scenes around the world or clubs in italy or…?
i don't know how much i'm influenced, musically speaking, by the fact i live in the countryside! for me it is more a dimension of the space and a feeling of belonging to this place, that's why bosconi is born here and bears this name.
me and my friends, we slowly found ourselves to be a nice collective of artists most of us coming from this region or being living here for a while.. ennio minimono, rufus, mass prod, the clover, riccio, herva, marco d'aquino (life's track).. this is the spiritual influence we have.. and this is what keeps us together! but we don't want to confine ourselves into this..
we aim to grow and to match with some of the international artist or scenes we like the most, taking inspiration from them and still trying to add something and be original. we keep an eye on everything is and has been happening around the world especially right now in uk, russia, united states. we spend together time, talking about what's new, what's futuristic, what to take back and play again from older stuff..
skudge, shed, tobias, danile bell, as well as actress, martyn or labels like stroboscopic artefacts, firecracker, sistrum, hemolock… to get back to perlon and logistic records, timeless electronic music labels. it sounds confused, and it probably is, it's a mixture of all that! remember the old, and not deny the new…
why take the decision now to focus on your own stuff under your own name?
nothing in my opinion is really decided… i think everything needs its time, and probably this was the time where i naturally felt like sitting and producing my own stuff under my own name, after a long time producing minimono and bosconi. maybe it's just i had something to say or i felt more inspired than other times… i really don't know why, it just happened… i guess it was the will i had for myself to discover what would be some club music coming from me, to satisfy my own djing needs..
how different will it be than your other monikers?
i guess it's going to be different, it's maybe going to show some sides of myself that were pretty hidden in minimono, that was really funk oriented, maybe more present in quitefrut, the other project i have with dj mattako from paris. i think fabio della torre, is going to be quite contradictory. rough on a side and delicate on another. mixing dirtyness and cleanness, analogue and digital.. i think this will be my idea, wheather could be techno bass house or broken beat. hard to use words about my future music. the upcoming release on bosconi could be an example!
tell us about minimono – will that moniker still continue?
with ennio we released the minimono album one year ago, and then we just took a creative break, he's also producing some music under his own name. sure we will sit together again soon and see what will come! we recently released an ep on swiss lable esance with two older tracks we really liked and a mass prod remix..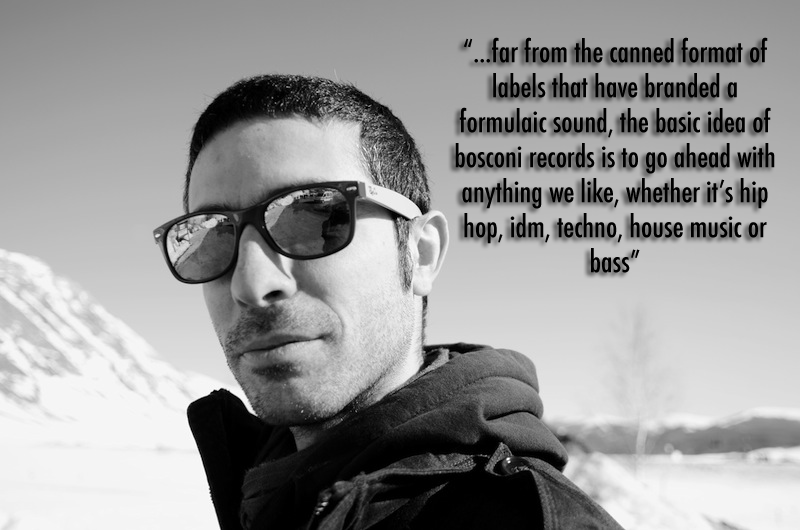 and about bosconi soundsystem – what is that? do you do your own festival?
bosconi soundsystem is basically a dj set at multiple hands between me, rufus, mass prod and alex picone. we know each other pretty well and it's really challenging playing altogether or sometime just the three of us. the idea is that each of us maintain his own style and his own attitude still following who's playing before him.. this can bring very original moments with the crowd and is inspiring for both us playing and people who are listening.
bss starts from an idea of a free musical flux: trying to explore more aspects of the club music going through downbeat and house passing by techno and disco, from the more broken vibes of the uk garage movement, through more avant guarde and timeless musical genres.
yes recently we did an event in rome, bosconi fesitval, with almost all the artists who have released or will release on bosconi records, produced in collaboration with fiesta privada, one of the nicest outdoor parties in italy.
we had 2 stages for 12 hours including dj sneak / bosconi soundsystem feat: fabio della torre – mass prod – rufus – alex picone / ricardo miranda / altered natives / i.f.m. [marcello napoletano & fran mela] / simoncino / riccio / e-dward / the clover & san proper live /nicholas live / minimono live / life's track live [herva & marco d'aquino]
watch some videos here and here
is the italy scene healthy would you say? are you keen to be part of it or represent it?
to be honest, not really healthy i would say… i'm not saying anything new i guess… but italy… everybody knows how italy is considered from the rest of the world. that is why doing some kind of a long period work, trying to build a label profile and a collective of artists, fighting for being considered from international press has been a super hard work.
italy, the land of plenty, well at least and probably only for big international djs! this could have been good in a way, it means that people still go to dance, and maybe still have some money left to spend in big parties. unfortunately it's the lack of contents that's basically destroying our clubbing. it's a cultural and social decadence what we are experiencing. i guess we're now feeling it all over europe and in all western countries. we had some money but we didn't spend them for building something that could help our own scene, we just gave our money away… together with many opportunities.
so yes i'm part of my country, i'm part of my scene, and i try to represent it the best way i can, and the only way i know. playing good music and being true to myself and to what i do.
where, how and on what was the mix recorded?
i recorded this mix at home just with vinyls and record players. i tried to follow a flow… i wanted to make something deep, starting with some "northern" sounds, and going into deeper techno and a lil industrial and dubby to finish, with some feelings and optimism!
what was your aim with it?
it doesn't have a special aim, it's just something i felt like mixing for you. something i thought you could appreciate, still representing my personality and some kind of moments i can reach in a dj set in club.
is it the sort of thing you play when djing in the club?
as i said, yes, i can play this sort of things even though i also like to play some bass and broken stuff, as well as some house or disco things. in this very moment i'm finding again big pleasure in playing techno and dub music, it's really from where i started, so it feels very natural for me and i'm comfortable with it!
what else you got coming up?
about my stuff. well i just release this ep as minimono on esance label from switzerland and it's coming soon, after the altered natives one, my ep on bosconi as fabio della torre with eduardo de la calle remix. nothing else planned from me at the moment, but i'm sitting and doing music. let's see what happens.
on bosconi extra virgin it's coming soon a nice ep from riccio, this time remixed by mr dj sneak, with a disco bomb as he's used to!
what do you like to do outside of music?
well besides music i'm a mechanical engineer, even though i never did it! i studied it cause i had a big passion for motorbikes. i also like martial arts and love playing chess, so wait for my next move! ahah! oh yes… i also like stupid jokes and demential humour.
teshcast v ~ fabio della torre
tracklist:
01. move d – workshop 02 [workshop]
02. gerry read – all by my self [4th wave]
03. fudge fingas – mass x (vakula dub remix) [firecracker]
04. garben eden – be with you [ethereal sound]
05. patrice scott – orbital bliss (p.scott rechord version) [sistrum]
06. pigon – kamm (tobias version) [lirum larum]
07. unbalance – untitled
08. polar inertia – black sun [demen3t]
09. roman flugel – tracks on delivery [ongaku]
10. morphosis – dirty matter (nwaq via mezzocapo dub) [mmdr]
11. deepchord – elecrtomagnetic dowsing [synth]
12. eduardo de la calle – untitled [connwax]
13. fabio della torre – in your eyes [bosconi]
14. scott grooves – only 500 [natural midi]
15. dj honesty – karenn [cabinet classics]
16. mk – the mkappella [delsin]
17. the oliverwho factory – together (altered states mix) [bosconi]
you might also like: